Using Online Marketing As Your Strategic Weapon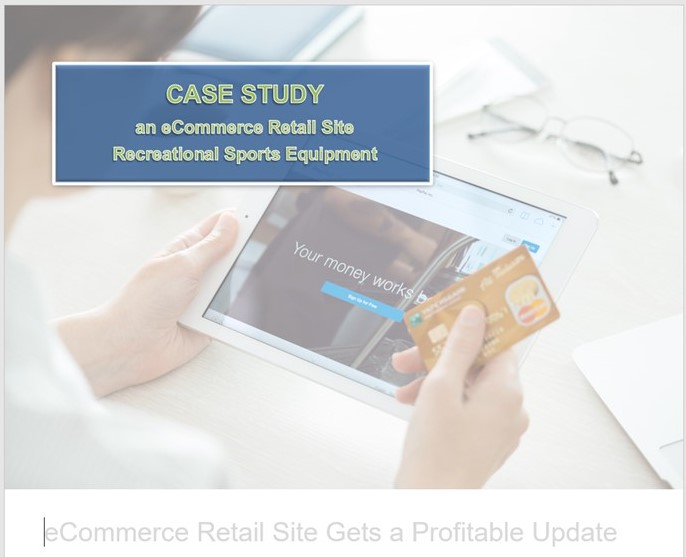 Join over 200 other retail companies,
marketers, consultants, and students
who want to create great experiences
for their customers selling products online.
Read our
eCommerce Case Study
You'll also get our free training and
popular Marketing News in your inbox.
Strategic design is the fusion of your organizational goals with every aspect of your design process. You aren't simply designing a user interface that looks good and is usable and accessible. You're designing an interface that will help you accomplish your organization's objectives. More importantly, you are leading your customers through a specific path on your website relevant to the solution you offer.
Lead Generating Website Design
Your website is the most important tool you have for turning prospects into customers.
There are plenty of ways to increase the number of people visiting your site, but unless you convert these visitors into leads, you won't be able to ultimately get new customers. As a result, your business won't be able to grow at a healthy rate. That's why it's so important to design your website with lead generation top-of-mind.
Our clients see at least a 50% increase in quality leads, sales, and opt-ins within the first 6-12 months of our solution.
Website Security & Maintenance Plan
Rest Easy Knowing Your WordPress Website is Safe.
Maintenance & Updates • Firewall Security • Website Backups • Custom Reports
$89 / month
Google Ads. The Best Way to Grow Your Business
Already Using Google Ads?
Stop Wasting Ad Spend.
Get Your Audit Today!
THE GOOGLE ADS AUDIT
How are your Google Ads really performing? Find out with an AUDIT report card, with scores in ten key areas (plus tips on how to improve!)
Tried Google Ads. Didn't Work?
Skip The Learning Curve.
Invite Our Expert Team In To Help!
GOOGLE ADS
Learning Google Ads takes time. Until then, you can find your business spending money with little to no results. We have been building campaigns since 2006. Constantly learning Google's methods and applying our best strategies.
Achieving Business Goals with Websites & Google Ads
When I started my new business, Carol was instrumental in getting me focused on what was important . . . marketing, social media, and business development.  She immediately knew who I should be targeting and how I could effectively market my company successfully.  I love her excitement with new projects such as mine and I would recommend her to anyone who is in need of stepping up their marketing efforts.
Hit-the-Web Marketing and Carol Scalzo have been working with us for the past few years. Initially, Carol designed and implemented our website, then redid it this year. Recently, Carol has been working with us to help create "traffic" to our website by using strategies such as blogging, social media marketing – social media linking between our website and social media platforms such as twitter, facebook and LinkedIn. We have noticed an increase in website traffic. We have always found Carol to be very professional and responsive to our requests. We highly recommend her and Hit-The-Web Marketing for website designs and social media marketing.