Build your ecommerce website. Is your business a mom-and-pop shop, a weekend crafter, or a massive global brand? ecommerce websites make it easy to accept orders from customers around the world.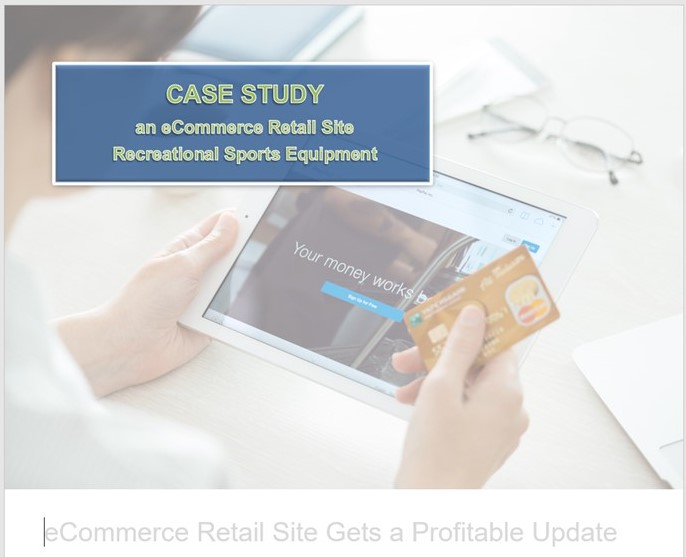 Improve your business process.
Manage & automate the whole process, including order and inventory processing, through an online ecommerce solution  — from the web!
Handle More Orders.
And make it easier for customers to do business with you.
Find out how this company recouped their eCommerce investment within 3 months of going live.
Join over 144 Million Companies Worldwide
Marketers, business owners, entrepreneurs and corporate professionals in
over 95 countries use this free eCommerce case study from Hit-the-Web Marketing.
"I am pleased to offer the following testimonial regarding our recent experiences with Carol Scalzo and her company Hit-the-Web Marketing. Carol is very knowledgeable about web design and construction and exemplifies a high level of professionalism. She strives to include the most modern ideas and technological advances in her product development.
Carol helped Paramount Industries, Inc. transform its outdated website into an updated modern website with complete e-commerce services. We are a company with limited IT fluent staff with regards to website design and Carol educated and trained us to use our new website in an easy, simple manner. She is very easy to work with and strives to make all learning experiences long lasting and memorable.
We enjoy working with Carol because she quickly grasps the concept of what we want to accomplish. Her easy-going manner, high desire to please and strong determination to get the job done is unsurpassed. She also is very cognizant of the budget allotted for projects and is able to work well within the budget.
In the development process of our new website, Hit-the-Web Marketing was able to supply all facets of the project from product photo images to total website mechanics such as ordering processes, payment systems, and other e-commerce solutions. We have seen a continued increase in sales due to our new website and feel very strongly that it will continue.
As we add to our website, we will look forward to working with Carol. Working with Carol is like having a valuable, dedicated person on staff. As President of Paramount Industries, Inc., I strongly recommend Carol Scalzo and "Hit-the-Web Marketing" to anyone needing marketing and website design."
If you find it useful, please feel free to 
blog about it, tweet it, link to it and
share it
 with the world!

The eCommerce Case Study pdf is free. You may edit or build upon the work

and even use it commercially, but you must give the original author proper attribution.
Thank you!
The requested attribution is a link to this eCommerce Case Study pdf  page
at https://www.hitthewebmarketing.com/ecommerce-case-study-pdf
Carol Scalzo is the author of eCommerce Case Study pdf and the founder of the web design and marketing firm Hit-The-Web Marketing. She is a recognized entrepreneur, blogger, and speaker and has released case studies to an active marketing community of over 7,303 people.
© 2021 Hit-the-Web Marketing, LLC. All Rights Reserved. | Phone (781) 996-9163